1.0 INTRODUCTION
1.1 Introduction
Mastitis, or inflammation of the mammary gland, is predominantly due to the effects of infection by bacterial pathogens, although mycotic or algal microbes play a role in some cases (Ronald J. Erskine, 2016b). There are many factors that influence the development of mastitis including microbial, host and environmental (Contreras & Rodríguez, 2011). Any opportunistic microbes that can invade tissue and causing infection can lead to mastitis. The pathogen that use this transmission mode are Staphylococcus aureus, Streptococcus agalactiae and Corynebacterium bovis. They may spread from cattle to another cattle through aerosol transmission and invade the udder causing bacteremia. There is other route of infection, which is through the environment of the cattle. The pathogens that associated with environmental reservoirs are Escherichia coli and Trueperella pyogenes (Ronald J. Erskine, 2016a)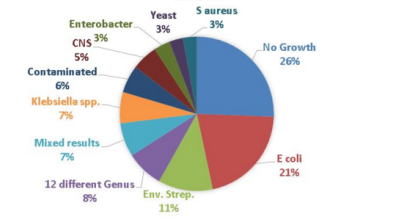 Post-milking teat dipping, dry cow therapy, well-maintained milking equipment, and culling of cows with chronic mastitis have successfully controlled contagious mastitis bacteria such as Streptococcus agalactiae and Staphylococcus aureus (Makovec & Ruegg, 2003). Milk samples collected from cows on Wisconsin dairy farms clearly demonstrated that environmental bacteria are the most common causes of clinical mastitis. (Pamela L. Ruegg, 2015)
Once inside the udder, E. coli multiply rapidly, causing influx of the inflammatory cells. As neutrophils ingest and kill bacteria, endotoxin is released and along with other inflammatory mediators causes severe local inflammation. This inflammatory response is characterized by increased vascular permeability, changes in milk composition and damage to the mammary epithelial cells, which may result in the characteristic watery or serous milk secretion.
The treatment for mastitis include administration of antimicrobial via the intramammary route or parentally (Gruet, Maincent, Berthelot, & Kaltsatos, 2001). Unfortunately, despite the best possible antimicrobial treatments, failures of bacteriological cure are common, especially for S. aureus mastitis, and antimicrobial resistance (AMR) is considered one of the reasons for low cure rates (Candrasekaran et al., 2014).
There are other reasons, which are the management and iatrogenic factors, drug factors, mastitis-causing organism factors and also mammary gland factor. However, the major reason is the insufficient contact of the antimicrobial with the mastitis-causing organisms at the site of infection is a major cause of mastitis treatment failure (Kiro R. Petrovski, 2007). Some bacteria such as S. aureus can localize inside host cells thus restrict the concentration of drug in the cells. E. coli can form biofilms, a condition where the microorganisms structured within an array of exopolysaccharides (EPS) and adhering to a living or inert surface with the function of protecting the microorganisms in stress environments (Costa, Espeschit, Pieri, Benjamin, & Moreira, 2014). The sessile cells arranged in biofilms tend to be more resistant to antimicrobial therapy compared with plantonic free cells, due to the slow diffusion of the antimicrobial in the inner layers of the biofilm (Costa et al., 2014). Also, to be effective, drugs need to be free and not inhibited by other components. Some drug may have high affinity binding towards protein. Thus, some component in the milk, for example, casein, may bind to the antibiotic and reduce the free the drugs in the udder. In the case of S. aureus infections during lactation, it has been estimated that the bacteriological cure rate is only within 25% to 50% only (Kiro R. Petrovski, 2015).
1.2 Problem Statement
Escherichia coli is one of the major cause of mastitis development. Based on the research done in Wisconsin dairy farm, 21% of the mastitis case result from the E. coli infection. Despite of all the treatment given, the therapy has not been successful. Hence, the aim of this study is to investigate the antibacterial activities of Tetracycline against E. coli from clinical mastitis in growth media and milk.
1.3 Research Questions
This study is designed to answer either tetracycline can demonstrate equivalent antimicrobial efficacy against E.coli in growth medium and in milk?
1.4 Research Hypotheses
This study is constructed to answer the hypothesis, either tetracycline demonstrates equivalent antimicrobial efficacy against E. coli in growth medium and milk.
1.5 Research Objectives
This study is conducted to achieve a set of following objectives :-
To determine minimum inhibitory concentrations (MIC) of Enrofloxacin and against the pathogenic E. coli
To determine minimum bactericidal concentrations (MBC) of Enrofloxacin and against the pathogenic E. coli
To perform time kill assay of Enrofloxacin against E. coli
2.0 LITERATURE REVIEW
2.1 Definition of mastitis
Mastitis is swelling of the mammary gland that frequently caused by bacteria ingoing the teat canal and moving up to the udder and there are two types of mastitis, which are contagious mastitis and also environmental mastitis (Dairy Australia, 2007). Contagious or cow-associated mastitis generally related to the bacterial infection that causing disease, which are Staphylococcus aureus and Streptococcus agalactiae (Dairy Australia, 2007). The bacteria present in the udders or on teat skin and spread either by splashes of disease-ridden milk or sprays during stripping on milker's hands or teatcup liners and by cross flow of milk between teatcups (Dairy Australia, 2007). Meanwhile environmental mastitis occur when the bedding which used to house the cattle is contaminated (Ronald J. Erskine, 2016a). It is not only concern on the bedding of the cattle, the infected soil, manure, calving pads and water host bacteria can also causing this disease to developed (Dairy Australia, 2007).
Mastitis come in two forms, which are subclinical and clinical, however, subclinical form is rare to be find (Ronald J. Erskine, 2016a).
2.1 Escherichia coli
Escherichia coli is no longer bizarre in our communities. This Enterobacteriaceae is a Gram-negative bacteria. It cannot sporulate and can be found commonly in the intestine. This bacteria have a characteristic of glucose fermenting, acid producing, nitrate reducing and oxidase negative. It also have facultative anaerobic characteristic which can grow easily at 37°C. Physically, E. coli is small in size, approximately 1-2 µ x 30-30 µ, with flagella. It has no capsule and also no mucus layer. There are several antigen structures that play an important role for the identification of this bacteria, which are K antigen, H antigens and O antigen. K antigen can be found in the capsules, a compound in the group of polysaccharide. H antigen can be found in flagella and O antigen can be found in the cells or the body as it is a substance in the group of lipopolysaccharide and polysaccharide (Wiwanitkit, 2011).
Despite the fact that most of E. coli are harmless and beneficial, there are species that have the ability to cause disease, and they are divided into groups according to the mechanism of pathogenesis. The groups are enterohemorrhagic E. coli (EHEC), enteroinvasive E. coli (EIEC), enterotoxigenic E. coli (ETEC), enteropathogenic E. coli (EPEC) and enteroaggregative Escherichia coli (EAEC). EHEC is a group that can cause haemorrhagic colitis and can end up with a specific complication called uremia haemolytic syndrome. EIEC or also known as Shiga toxin-producing E. coli (STEC) causes diarrhea. ETEC is a major cause of traveler's diarrhea and diarrhea in group of infants in developing countries. E. coli toxic products from the gut causes problems to the patient's body. EPEC is a major cause of diarrhea in infants and EAEC is a new pathogen (Wiwanitkit, 2011).
2.2 Mastitis
Mastitis is the inflammation of the mammary gland and udder tissue, and is a major endemic disease of dairy cattle. It commonly occurs as an immune response to bacterial invasion of the teat canal by variety of bacterial sources present on the farm, and can also occur as a result of chemical, mechanical or thermal injury to the cow's udder (AHDB Dairy, 2017).
3.0 MATERIALS AND METHODS
3.1 Samples collection
This study is conducted in laboratory of Faculty of Veterinary Medicine in University Malaysia Kelantan. The bacteria sample, which is Escherichia coli is isolated from the stock samples of the laboratory. There are three samples, which are EY1, E27 and E31.
3.2 Samples preparation
The samples are cultured on the nutrient agar for 18 to 24 hours at 37°C.
3.3 Isolation and identification of Escherichia coli
The bacterial colony on the nutrient agar is then cultured on the eosin methylene blue (EMB) agar and gram staining is done.
3.4 Minimum Inhibitory Concentration
Minimum inhibitory concentration (MIC) are determined using the broth micro dilution method. A range concentrations of antimicrobial is prepared in a 96 well microplate, followed by inoculation of bacteria culture to yield approximately 5×105 cfu/ml in a 250μ final volume. The plate is then incubated in 37°C for 18 hours. The lowest concentration of antimicrobial that inhibit bacterial growth is taken as MIC value.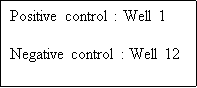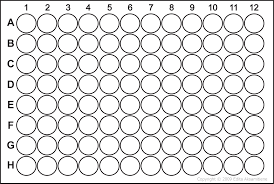 3.5 Minimum Bactericidal Concentration
The dilution representing the MIC are aliquot volume of the broth and spot onto Nutrient agar. The agar is then incubated 18 hours with 37°C. No growth indicate that antibiotic is bactericidal at that concentration. If there is present growth indicative that antibiotic work as antibiotic only particularly on the dilution.
3.6 Time Kill Assay
Tube containing designated concentration of antimicrobial will be inoculated with 105 cfu/ml of bacteria in Nutrient agar, followed by incubation at 37°C, in an incubator shaker at 200 rpm. At 0, 1, 4, 24 hour post inoculation, 50µ aliquots will be taken out, serially diluted in saline and plated on Nutrient agar. Plates will be incubated for 18 hours at 37°C followed by colony counting. An antimicrobial is considered bactericidal if there is ‰¥3-log decrease in cfu/ml of bacteria counts, as compared to the growth control.     
4.0 RESULTS
4.1 Isolation and identification of Escherichia coli
Colony of E. coli on EMB agar is small to medium circle in size and shape, with dark green and glossy, raised and polish appearance.
4.4 Time Kill Assay
SAMPLE EY1 (x103)

T0

T1

T4

T24

MEDIA

CONTROL

110

120

135

150

1X MIC

42

11

21

110

2X MIC

26

42

26

0

5X MIC

20

12

11

0

15X MIC

13

13

1

0

MILK

CONTROL

123

135

141

156

1X MIC

46

35

173

110

2X MIC

46

26

11

100

5X MIC

32

14

8

0

15X MIC

37

13

4

0
Table 1 : Time kill Assay Results for Sample EY1 in x103
SAMPLE EY1 (x106)

T0

T1

T4

T24

MEDIA

CONTROL

5.5

6.0

6.75

7.5

1X MIC

2.1

0.55

1.05

5.5

2X MIC

1.3

2.1

1.3

0

5X MIC

1.0

0.6

0.55

0

15X MIC

0.65

0.65

0.05

0

MILK

CONTROL

6.15

6.75

7.05

7.8

1X MIC

2.3

1.75

8.65

5.5

2X MIC

2.3

1.3

0.55

5.0

5X MIC

1.6

0.7

0.4

0

15X MIC

1.85

0.65

0.2

0
Table 2 : Time kill Assay Results for Sample EY1 in x106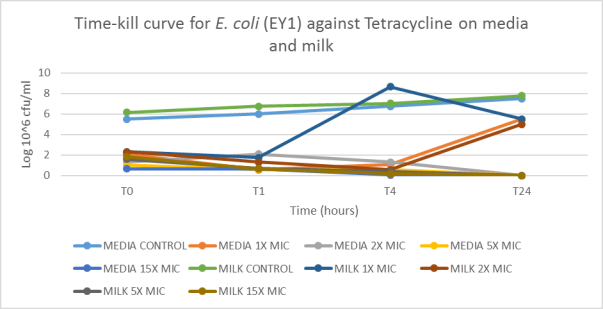 Figure 3 : Time-kill curve for E. coli (EY1) against Tetracycline on media and milk
SAMPLE E27 (x103)

T0

T1

T4

T24

MEDIA

CONTROL

113

126

141

154

1X MIC

64

29

49

111

2X MIC

58

35

18

10

5X MIC

42

22

2

0

15X MIC

30

11

1

0

MILK

CONTROL

127

139

145

161

1X MIC

48

36

180

100

2X MIC

58

52

30

111

5X MIC

41

22

18

5

15X MIC

47

22

20

5
Table 3 : Time kill Assay Results for Sample E27 in x103
SAMPLE E27 (x106)

T0

T1

T4

T24

MEDIA

CONTROL

5.65

6.3

7.05

7.7

1X MIC

3.2

1.45

2.45

5.55

2X MIC

2.9

1.75

0.9

0.5

5X MIC

2.1

1.1

0.1

0

15X MIC

1.5

0.55

0.05

0

MILK

CONTROL

6.35

6.95

7.25

8.05

1X MIC

2.4

1.8

9.0

5.0

2X MIC

2.9

2.6

1.5

5.55

5X MIC

2.05

1.1

0.9

0.25

15X MIC

2.35

1.1

1.0

0.25
Table 4 : Time kill Assay Results for Sample E27 in x106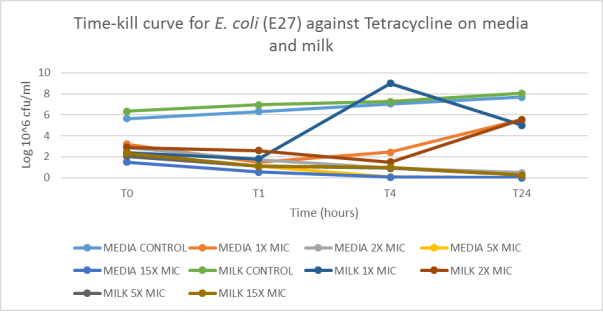 Figure 4 : Time-kill curve for E. coli (E27) against Tetracycline on media and milk
SAMPLE E31 (x103)

T0

T1

T4

T24

MEDIA

CONTROL

115

121

137

145

1X MIC

59

41

39

114

2X MIC

57

37

27

43

5X MIC

55

39

23

0

15X MIC

24

33

7

0

MILK

CONTROL

121

140

149

165

1X MIC

56

40

180

108

2X MIC

71

50

45

116

5X MIC

51

26

12

102

15X MIC

58

25

13

0
Table 5 : Time kill Assay Results for Sample E31 in x103 
SAMPLE E31 (x106)

T0

T1

T4

T24

MEDIA

CONTROL

5.75

6.05

6.85

7.25

1X MIC

2.95

2.05

1.95

5.7

2X MIC

2.85

1.85

1.35

2.15

5X MIC

2.75

1.95

1.15

0

15X MIC

1.2

1.65

0.35

0

MILK

CONTROL

6.05

7.0

7.45

8.25

1X MIC

2.8

2.0

9.0

5.4

2X MIC

3.55

2.5

2.25

5.8

5X MIC

2.55

1.3

0.6

5.1

15X MIC

2.9

1.25

0.65

0
Table 6 : Time kill Assay Results for Sample E31 in x106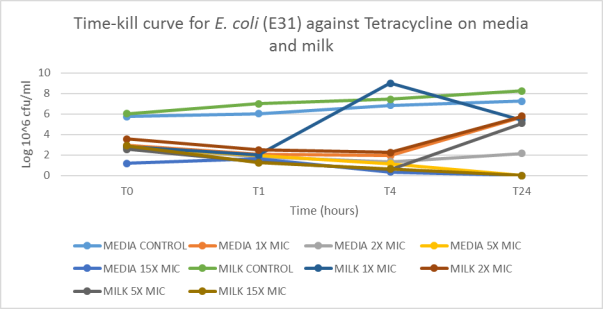 Figure 5 : Time-kill curve for E. coli (E31) against Tetracycline on media and milk